"Experience China in Turkey" culture event will be held in mid October, China's State Council Information Office said Tuesday.
The event, to be held in Ancyra, Istanbul and Kayseri, would demonstrate Chinese goodwill to Turkey and enable both peoples to have face-to-face communication, the statement said.
It's composed of a series of activities including performances, Chinese film week, Chinese television week, trade forums, book presentations, and a Chinese food festival. The opening ceremony is scheduled for October 17. Chinese and Turkish journalists would conduct exchange visits during the event. Dozens of Chinese artists, authors and scholars will come to Turkey at that time.
The event is jointly held by the Ministry of Culture, the State Administration of Radio, Film and Television, the Chinese Writers Association, the Chinese embassy in Turkey, the Chinese Consulate General in Istanbul, Turkey's Ministry of Culture and Tourism, and the China Foreign Ministry. It will be a large exchange event between China and Turkey.
Since 1999, China has held the event of "Experience China" in many countries including Germany, France, Switzerland, the U.S., Mexico, Russia and South Korea to promote cultural exchanges. These events have been well received by overseas governments, news media and the general public.
Related stories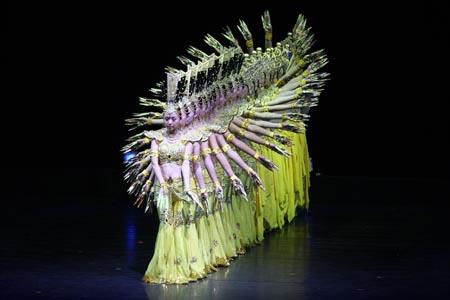 Artists perform the Thousand-hand Bodhisattva during a performance dubbed
"My Dream" in Tel Aviv, Isreal on Oct. 17, 2009. "Experience China in
Israel" cultural event formally kicked off Saturday evening in Tel Aviv
Opera House, in the presence of Israeli President Shimon Peres and Wang
Chen, Minister of the State Council Information Office of China.(Xinhua Photo)
Editor:Shi Taoyang |Source: CNTV