There is a "hawking" king in Beijing, named Zang Hong who is now over 70 years old. He can use over 100 different callings for peddling wares including something to use, play, eat and drink. Whenever an old and famous shop re-opens, Zang will go to roll logs for the shop owner. In 1993, the Nanlaishun Restaurant re-launched more than 100 traditional Beijing snacks and Zang was invited to roll logs. He hawked the persimmons from Gaozhuang like this, "Yo, here are persimmons produced in Gaozhuang. They are not astrictive. If so, you may exchange it!"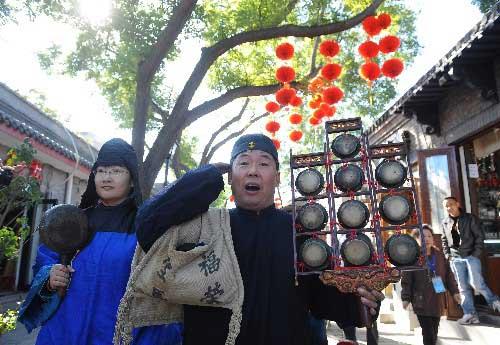 Unique folk art of old Beijing—"hawking one's wares"
In fact, hawking originally meant calling out. Kuang Chaoren, a character in "The Scholars of Qing Dynasty" who was reading in the light, suddenly heard a clear voice shouting outside and then dozens of voices shouted together. The author has not tried to do research about when exactly people started to sell goods by calling out (any information about this is welcome), but shouting loudly has indeed been an effective way of selling goods since ancient times. The earliest recorded incident was when Grand Duke Jiang, a butcher, would wield his knife and hawk the meat. In the Song Dynasty, there were vendors who hawked secondhand clothes, medicine or food on the streets in Kaifeng. In old Beijing during the Ming Dynasty, the flower venders hawked peach blossoms on the streets which would bloom in March, envying the public. During the period from the late Qing Dynasty and the early Republic of China, until before the liberation to the founding of new China, and in the early period of the liberation of new China, hawking one's wares in old Beijing became more vivid.
Vendors selling radishes would hawk by shouting, "Here are radishes! Better tasting than pairs! You can exchange them if they're hot!" The sugar-coated haws vendors would hawk, "Here are sugar-coated haws as sweet as honey!" The goldfish vendors would shout, "A big one, two big ones, these are not cucumbers but goldfish." The flat peach vendors were more interesting and hawked their goods by yelling, "Here are flat peaches that became flat not because they were bundled by the eldest daughter or embroidered by the second daughter, but treaded by the third daughter!"
Hawking not only existed in Beijing but all over the streets of other cities as well. For example, the author had heard people in Xuzhou in the 1950s hawking, "Delicious chicken! Delicious chicken!" Vendors from Changzhou sold combs by shouting, "Here are combs and double-edged fine-toothed combs." In addition, hawking can be heard in the morning market, with voices yelling, "You can get porridge made of rice, millet, cowpea, mung beans and flour here, as well as steamed buns with sugar stuffing or sweetened bean paste," during the night market in winter and autumn, "Here are baked sweet potatoes," and "Here are turnips all green both inside and outside."
Two years ago, when Mr. Wang, an old overseas Chinese who went back Xuzhou to visit relatives, heard a vendor pedaling a tricycle and calling "Here are strong-smelling dried beans," he shook his head and said, "It does not sound like when it was 50 years ago. At that time, hawking something sounded like singing. Now if one wants to listen to it again, they have to listen to the cross talk."
Yes, hawking, which was cadenced, vivid and interesting and could be heard from morning to night in the past, has really entered the circle of art and found favor in artists' eyes. There are words of hawking in the traditional cross talk "Selling Secondhand Clothes" and the whetter in the modern Peking Opera "The Red Lantern" featured hawking, "Here is someone whetting scissors and kitchen knives." Zang, the hawking king, had dubbed some films and TV series including "The Old Story of South Beijing" and "Four Generations Under One Roof" a few years ago. "Here is some rice. Who wants to buy the rice?" the hawking words in a humorous short play 10 years ago had been very popular.
These vendors on the streets hawked their wares by singing or through oral stunts, and they deserve to be called hawking artists with special pleasing qualities. However, the pleasing qualities have disappeared from the current hawking. If you do not believe this, turn on your TV and you will find that some famous singers, comedians, and actors "hawk" before hundreds of millions of viewers like this, "I love…," "I really feel comfortable after using…," "anyone will look great if they put on it," or "this is really cost-effective. It costs less than one yuan." All of these ads have lost the special qualities of the hawking artists in the past.
Editor:Shi Taoyang |Source: CNTV.CN