The Qixi Festival, also called Chinese Valentine's Day, is celebrated with different activities in China's various regions because of the differences in regional culture, showing numerous special characteristics.
Residents at Gudoujing Village of Tanghui Township, Jiaxing, Jiangsu, celebrate the festival by building fragrant bridges. During the Qixi Festival every year, people all come to participate in building fragrant bridges. The so-called fragrant bridge is a 4 to 5 meters long and a half meter wide bridge made from various types of thick and long paper-coated joss sticks, with railings bounded with flower-shaped decorations made from five-color threads. When the evening comes, people worship the star Altair and the star Vega and pray for blessings before they burn the fragrant bridges, marking that the two stars have passed the fragrant bridge and have been happily reunited. The fragrant bridge is derived from the legend that a cowherd and a fairy weaver girl reunited on a bridge made up of magpies.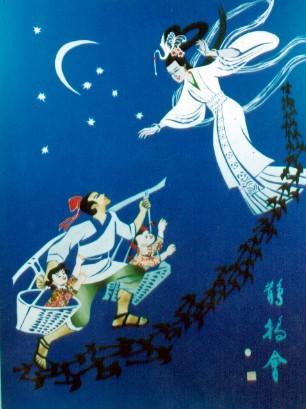 Folk customs of Chinese Valentine's Day
People in the Jiaodong Peninsula worship the Seven Fairy Maidens during the Qixi Festival. Young women wear new clothes and get together to become sworn sisters in the yards. They also chant, "Heaven and earth, we are inviting the Seven Fairy Maidens to fall from heaven. We want neither your needles nor your threads, and we just want to learn a variety of skills from you." Some areas also make "smart flowers" – girls use flour to make pancakes and steamed buns in the shape of peonies, lotuses, plums, orchids, chrysanthemums and other flowers. They also grow "smart vegetables"- cultivating wheat sprouts in wine bottles. They use the "smart flowers" and "smart vegetables" to worship the fairy weaver girl.
In Shaanxi province, girls use straw to weave an over one meter high "skillful fairy (weaver girl)" and dressed her up with a green coat and red skirt, and then have her seated in the yard. Then, girls offer fruit sacrifices to her and then take out prepared bean and scallion sprouts. They cut off part of the sprouts and put it into a bowl filled with clean water, and then use the shadow of the sprout in the moonlight to tell whether they are skillful or clumsy. They also compete for the title of who is most skillful by weaving and making paper cuts.
In Fujian province, women and young girls put incense burners and various types of sacrifices in place, including tea, wine, flowers in vases, longans, red dates, hazelnuts, peanuts and sunflower seeds and cosmetics. After worshiping the star Altair and the star Vega, they divide the cosmetics into two parts, and throw one part onto the house roof, offering it to the fairy weaver girl, and keep the other part as their own makeup. It is believed that sharing cosmetics with the fairy weaver girl will make their beautiful appearance forever young. Offering sacrifices of longans, red dates, hazelnuts, peanuts and sunflower seeds implies praying for having children. Finally, women will enjoy tea, food and fruit and play games involving the Qixi Festival.