The average height of the players is less than 140 centimeters. The oldest player is 37 years old and the youngest is 21 years old. Most of the players are playing soccer for the first time and everyone is extremely excited. Although they have no skills, their joy and passion touched everyone.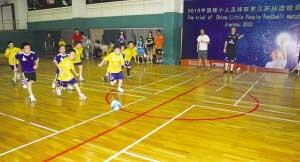 The match of the China Dwarf Soccer League in
Jiangsu Province looks more like a soccer match
of primary school students.
Xu Aihua, a 28-year-old young man, is only 135 centimeters tall. "I am optimistic by nature and love soccer very much. However, my peers are not willing to play football with me because of my height," he said with a smile on his face. Xu, one of the members of the Shanghai Dwarf Association, became aware of the Dwarf Soccer League project on www.zenggao.org. As many of his friends from the association participated in the project, Xu also excitedly registered his name for the matches. Xu said he feels both happy and sad every time he sees his friends who are also dwarfs.
He is happy because they can communicate with each other without any barriers, and he is sad because so many people spend their entire life with regret due to a lack of correct understanding towards dwarfism. Although Xu himself was diagnosed with the disease late, fortunately, his epiphyses can still grow and he still has the chance of getting taller. Therefore, he particularly hopes parents who still blindly find methods to help increase their children's heights can gain more knowledge about dwarfism as early as possible so their children will not be just a dwarf for their entire lives.
[In life] They hide themselves at home and on the Internet
Statistics show that a total of about 100 dwarfs including 50 to 60 dwarfs from Jiangsu, Zhejiang and Shanghai, and others from Beijing, Tianjin and Guangdong, got together to participate in the activity. According to sources, this is the largest-scale dwarf association in Jiangsu Province. The self-isolating and self-contemptuous dwarfs that usually hide themselves at home and on the Internet are able to find a feeling of equality here and share common topics, thus allowing them to have a sense of belonging.
Zhu Yujun, an 18-year-old girl that is 128 centimeters tall, specifically came from Yancheng in Jiangsu Province to cheer for the football matches. She was admitted as a teaching major by Southeast University with a score of 398 points in 2010. She said that she came to cheer for the match because she wanted to take this opportunity to make more friends. "Being short is not terrible as long as you have a brave heart to face life," she said. She was always concerned with her height when around people, but in this special group, she is finally able to freely and happily express herself.
"We hope to attract the attention of society and enjoy equal treatment in aspects such as education, medical treatment, employment, love and marriage. The association provided an equal communications platform for dwarfs and also aims to attract more attention to improve the situation of dwarfs," said Lu Jiarui, a website editor of www.zenggao.org. "Six dwarf couples have harvested sweet love and many dwarfs found jobs with the help of our association. More importantly, we have helped them establish self-confidence and self-reliance to bravely face life and challenges," Lu said. Lu herself also found love in the association. Her boyfriend is a 29-year-old and 130-centimeter-tall young man named Xiao Pan. Xiao Pan also came from Shanghai to Jiangsu to attend the party of other dwarfs congratulating Lu on finding a boyfriend.