Situated in the east of the Songliao Plain and to the north of the Hunhe River, a tributary river of the Liaohe River, Shenyang is the former capital of the Qing Dynasty and is now a modern heavy industry base.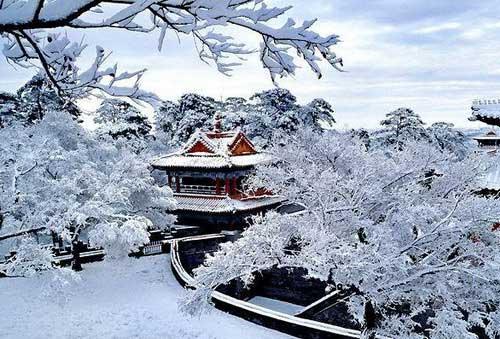 Shenyang Imperial Palace
Shenyang is located to the north of the Hunhe River, which was called Shenshui in ancient times. The ancient Chinese people used to call the area north of the river Yang, and this is how Shenyang got its name. Shenyang has a long history, for the ancestors of human beings began to live there as early as over 7,200 years ago. Shenyang belonged to Yingzhou before the Zhou Dynasty (around the 11th century B.C.) and belonged to the Liaodong Prefecture during the Warring States Period (475 B.C.—221 B.C.). It was called Houcheng in the Western Han Dynasty (206 B.C.—A.D. 24), while in the Liao Dynasty (960—1127) Shenyang was renamed Shenzhou and the city walls were constructed with earth. Overall, Shenyang has been rebuilt many times in ancient times. The Jin Dynasty (1127—1279) continued to use the name Shenyang, while the Yuan Dynasty (1271—1368) rebuilt the city wall and changed its name to Shenyanglu. In 1625, Nurhachi, the founder of the Qing Dynasty, moved the Manchu capital from Liaoyang to Shenyang, and Huang Taiji, the second emperor of the Qing Dynasty, addressed Shenyang as Shengjing in 1634, and announced it as the capital of the Qing Dynasty. After the Qing Dynasty changed its capital city to Beijing in 1644, Shenyang became the secondary capital. The Qing Dynasty set Fengtianfu in Shenyang in 1657 after it unified China. In 1945, the city regained its old name Shenyang.
Shenyang, the secondary capital during the Qing Dynasty, had many cultural relics and historical sites. The imperial palace in Shengjing is known as the "Forbidden City outside the Shanhaiguan Pass," which is the symbol of Shenyang. Dongling Park, which is also called Fuling, is the tomb of Nurhachi and his Queen Yehe Nala. There are also other historic sites such as the Yong'an Stone Bridge, the Dustless Pure Stupa built in the Liao Dynasty, Temple of Eternal Peace, Shisheng Temple, Nanqing Temple, and Taiqing Palace.
The Laobian Dumpling has a history of 150 years, and the Li Lian'gui Large Smoked Meat Flatbread has a history of 140 years. The Majia Steamed Dumpling is a famous Hui-style food with a history of 180 years. Najia Restaurant's White Pork and Blood Large Intestine is a Manchu-style dish.
Like other places in the northeastern region, the spring and autumn in Shenyang are very short, and the range of temperatures is very large. The average temperature in the summer is 24 degrees Celsius, three to five degrees lower than that in the southern regions. Shenyang's winter is cold and dry, so visitors must bring thick and warm clothes.
Editor:Shi Taoyang |Source: CNTV.CN