Zhou Yafei, who competed in the National Games last October, appeared on the CCTV broadcasting stand as a commentator for the swimming competitions of the 16th Asian Games, which surprised sports enthusiasts around the country.
Although Zhou is appearing on TV as an invited commentator for the first time, she looks very skillful not only by using the appropriate terms and phrasing and providing analysis from the perspective of an expert, but also on holding key points and policies. No wonder Zhou's partner, Han Qiaosheng, said, "I'll give you 95 points for the first day, 98 points for the second day, and now you can do it by yourself. I better ask the director to give me a new program. You have good analysis, logic and thinking as well as the image, all of which are better than me."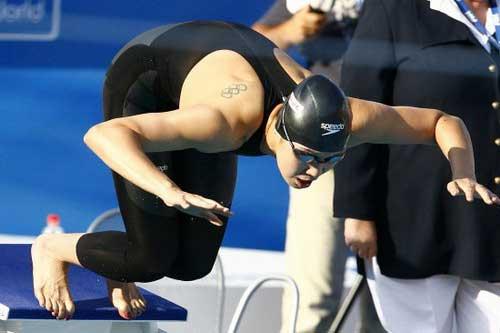 Zhou Yafei won silver at the FINA World Championships Rome in August 2009.
In fact, Zhou was not the first person to turn sports commentator from an athlete, but she learned the quickest just as she set new records when she was an athlete.
Zhang Weiping, senior basketball commentator and former coach of China's national team, believes that there is an inevitable trend of more and more retired athletes appearing as sports commentators. Along with the development of communications, audience can enjoy more sporting competitions. In addition, they are demanding higher commentary quality and are no longer satisfied with knowing just what happened. This requires commentators to develop a deep analysis of events and introduce clear and concise points for audiences. Zhang added, "Athletes and coaches who have experience, history and background are the best choice. For some athletes, it is a good choice for them to turn TV commentator after some professional training according to their situation after retirement."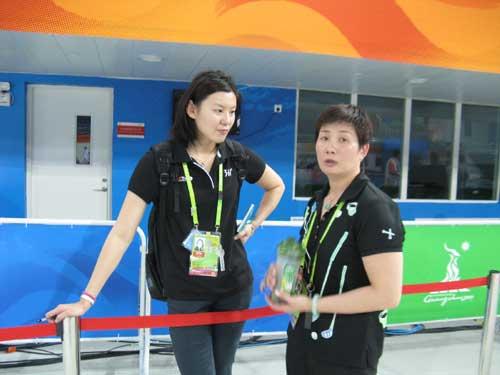 Zhou became a sports commentator at the Guangzhou Asian Games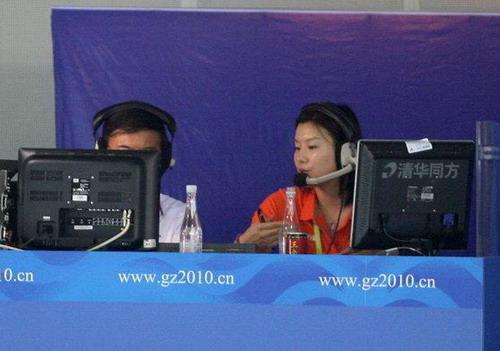 Zhou on the commentator stand with Han Qiaosheng
Most of the top athletes choose to attend school and engage in various professions, such as becoming a businessperson or government official. Some of them engage in journalism and become a reporter or commentator. We welcome them with open arms because they have chosen something that is good both for athletes and audiences. For athletes, they have years of experience and a good understanding of the rules and details. Moreover, they are more professional than sports enthusiasts who come from broadcasting or presenting backgrounds. They usually appear on television, which is also a good way to motivate athletes who are not yet retired, and show them that they have lots of options after retirement as long as they work hard. For audiences, they can learn more about the details of the event and continue to appreciate their favorite athletes bringing their skills into full play in other fields. More so, the retired athletes can arouse more common people to gradually appreciate and take part in sports and exercise by using popularity and pull power to cultivate a more sporty population. Thus, these athletes turned TV commentators can play their biggest roles.
Editor:Shi Taoyang |Source: CNTV