The Taizhongyin Railway, a rail artery connecting Shanxi and Shaanxi provinces as well as Ningxia Hui Autonomous Region in central and western China, was officially opened on Jan. 11, 2011. The line begins in Taiyuan, passes through Luliang City and Shaanxi Province, and ends in Yinchuan. There are many remote, inaccessible, and poverty-stricken areas as well as resource-rich areas along the way.
What changes will the railway bring to Shanxi Province?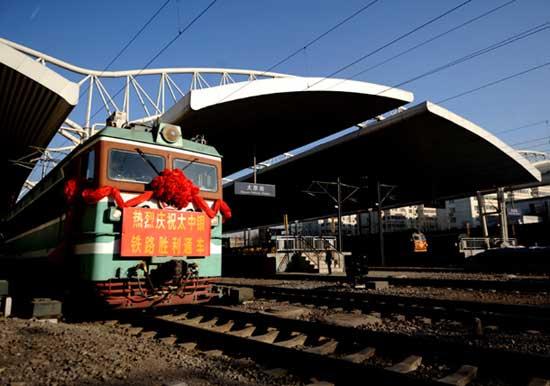 The Taizhongyin Railway was officially opened on Jan. 11, 2011.
More convenient transportation
Xiao Yang, a student at the Taiyuan University of Technology, was seated in the first waiting room of the Taiyuan Railway Station with heavy luggage beside him when our reporter interviewed him at 9 a.m. on Jan. 15. Waiting for Train No. 2681 to his hometown Luliang, he told the reporter, "I used to go home by long-distance bus, but the journey home was always a painful experience because of my carsickness. My father told me a few days ago on the phone that the Taizhongyin Railway had opened, and suggested that I take the train home. Therefore, I got up early yesterday morning and bought a student train ticket for only 7 yuan, much cheaper than the 70 yuan bus fare. More importantly, roads get congested easily, especially when it snows. My grandpa is so happy about the opening of the railway that he goes to the Luliang Railway Station every day, and always says, 'the railway finally opened!'"
"Take a train to Lhasa, visit the wonderful Potala Palace." This is part of the lyrics to a song about Lhasa. A Taiyuan resident surnamed Zhang has always longed to visit the beautiful city. He thinks that if he goes to Lhasa by train, he can enjoy the fantastic scenery along the way, and avoid altitude sickness at the same time. He had planned to spend the 2010 National Day holidays in Lhasa, but later learned that he had to transfer to another train at Shijiazhuang. Due to the inconvenience and heavy workload, he canceled his plan. After the Taizhongyin Railway opened, a Beijing to Lhasa express train changed its route and now passes through Taiyuan. The good news brought him great joy and encouraged him to fulfill his dream. He is now looking forward to spending the 2011 May Day holidays in Lhasa.
According to the Taiyuan Railway Bureau, 17 pairs of passenger trains will run on the Taizhongyin Railway, including three pairs of new trains and 14 pairs of old trains which had changed their routes. Trains from Beijing to Lhasa, Urumqi, and Yinchuan now pass Taiyuan, and the residents of Taiyuan and even the entire Shanxi Province will enjoy greater convenience for traveling.
Wang Quanxian, deputy director of the Taiyuan Railway Bureau, said the Taizhongyin Railway connects Qingdao, Jinan, Shijiazhuang, Taiyuan, Yinchuan, Urumqi, and Lhasa. It has a designed speed of 160 kilometers per hour, but can support a speed of 200 kilometers per hour if necessary. It is designed to operate 40 pairs of passenger trains a day, and to transport 60 million tons of goods a year. The transportation distance from western China to major cities in northern China has been reduced by between 100 kilometers and 500 kilometers. It only takes five hours to travel from Taiyuan to Yinchuan by direct train, one-fourth of the travel time by road. Furthermore, it is the first passenger railway in southwest Shanxi and north-central Ningxia.