Saka Dava Festival is observed on April 15th of the Tibetan calendar. This day is said to be the birthday of Sakyamuni, the Great Buddha, and the day he died and became a Buddha as well as the day of the arrival of Princess Wencheng (the queen to Songtsen Gampo, a great Tibetan king of the 7th century AD) in Lhasa.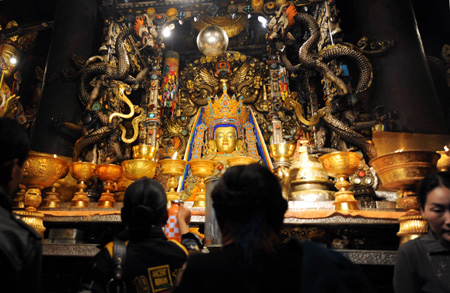 People pray in front of a figure of buddha at Jokhang Temple in Lhasa, southwest China's Tibet Autonomous Region, while celebrating the peak day of the Sakadawa Festival, June 7, 2009. The Sakadawa Festival, which falls on the First Day of the Fourth Month of the Tibetan Calendar, is celebrated by Tibetan Buddhists to commemorate Sakyamuni's birth, enlightenment and death. (Xinhua/Gesang Dawa)
Many religious activities are held this day. People walk out of their houses and circumambulate around the Jokhang Temple and the Potala Palace. The three main circumambulation roads in Lhasa are crowded with devotees praying and prostrating themselves devoutly.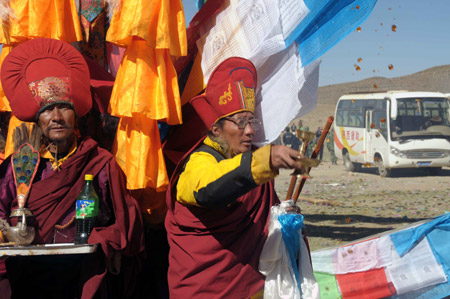 Monks pray during the peak day of the Sakadawa Festival at Kangdese Mountain region in Lhasa, southwest China's Tibet Autonomous Region, June 7, 2009. (Xinhua/Gesang Dawa)
Related stories