Watch Video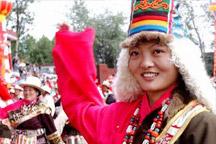 Play Video
Tibet Shoton Festival is the opera festival and the greatest festivals in Tibet. In ancient times pious folks went into mountain hermitages for penance, and on the last day of which Yoghurt was served for meal followed by entertainment of folk songs and daces. Since 7th century, opera performances were held for days in Norbu Lingka. Presently, opera contests and distribution of prizes are held for seven days.
For a whole week in early July when Venus appears in the sky every year, Tibetans will bathe themselves all day long in rivers across the region, believing that bathing may cure illness and get rid of misfortune at a time when water is purest and mildest.
According to a Tibetan myth, the gods will descend from the heaven on the 22nd of the ninth month of the Tibetan calendar every year. All monasteries will be open on this day to the needy and prayers and sutra chants will be given.
Editor:Yang Jie |Source: