Watch Video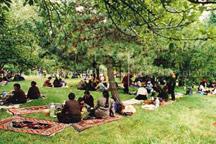 Play Video
The Shoton festival is called "Norbu linka Shoton" .
Norbu linka is situated in the west of Lahsa and for a long time is the summer palace of Dalai Lama. In Tibetan language , Norbu linka means "treasure garden".In summer, Norbu Linka is the best place for Lahsans to spend summer time and enjoy the green grassland and beautiful flowers.
During the days of Shoton festival, the festival organizers build an open stage in Norbu Linka and many Tibetan opera troups perform Tibetan opera at this stage for several days. With long and loud aria of Tibet opera, the whole of Norbu Linka is bathing in the happiness.
Editor:Yang Jie |Source: