Watch Video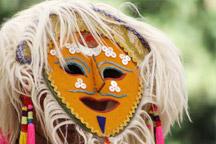 Play Video
In addition to eating yogurt, Tibetan opera performance is another main activity on the Shoton festival. It is known to all that the Shoton festival is also called "Tibetan Opera Festival". During the period of the 13th Dalai Lama, there were 12 Tibetan opera troupes in Tibet.
They are "Bingbadun"(Seven Brothers and Sisters) from qiongjie in Shannan Perfecture, "Zhaxixueba" from Naidong County, "Tazhongwa" from Nymog County, "Langzewa" from Doilung Deqen County. These six Tibetan operan troupes are called White Mask Sect standing for a kind of old Tibetan opera culture and having a long history. Except the White Mask Sect, there is also Blue Mask Sect in Tibet opera which includs "Jinba" from Angren county, "Jianggeer" from Renbu county, "Xiangba" from Nanmulin county, and "Juemulong" from Lahsa.
Among twelve Tibean opera troupes, "juebulong" is half professional because in the whole year they not only perform Tibetan opera but also do business. On 10th June according to Tibetan callender, the directors of each Tibetan opera troupes come first to Lahsa and visit "Ziqia Liekong" managing the Potala palace. It is very strange that Tibetan opera peformance is organized by them and the lists of plays must be decided by them. On 25th, all the actors and actress gather in Jiana Linka in the west of Gongdelin Monastery.
There "Ziqia Liekong" will call their names and which performers died and which is added must be reported and another new list of actors and actress will be made. On 29th, all the troupes gather at "Square in the sky" inside the Potala Palace and there dress rehearsal is held and the list of performance is decided. Zhaibung Shoton is on 30th and all the actors and actresses will attend the Buddha painting unfolding ritual and will perform their best opera after the unfolding.
Editor:Yang Jie |Source: