Related News:
South Africans on Wednesday celebrated the 94th birthday of Nelson Mandela, an anti-apartheid hero and the first black president in the country still torn by racial division 18 years after the end of apartheid.
Miss South Africa 2011 Melinda Bam poses with schoolchildren preparing to sing
happy birthday to former South African President Nelson Mandela, on his 94th
birthday. The nation's 12 million schoolchildren began their day with a special
birthday song, ringing with the line: "We love you father".
Greetings also poured in from politicians around the world and former U.S. president Bill Clinton paid a visit to Mandela at his home in the Eastern Cape village of Qunu on Tuesday.
Parliament's Presiding Officers, Members of Parliament and Parliament's officials joined the country in the celebrations. "We are privileged to still have Madiba (Mandela's nickname) with us and take this opportunity to wish him well on his 94th birthday," the National Assembly said in a statement, describing Mandela as "beacon of hope in the world."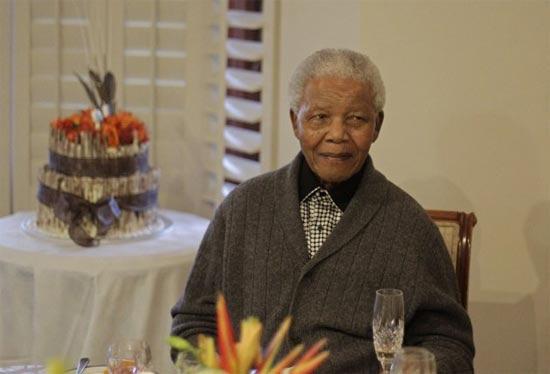 Former South African President Nelson Mandela as he celebrates his birthday with
family in Qunu, South Africa, Wednesday, July 18, 2012. Across the country, and
even abroad, people are doing good deeds to honor the country's most famous
statesman on his 94th birthday Wednesday.
"Although he served us for five years as President, we benefitted from his leadership for many more and he continues to inspire us," the statement said.
As part of the celebrations, a campaign was launched to encourage South Africans to donate at least 67 minutes on July 18 to do something good to make a difference to the lives of others.
Volunteers paint a fence during the celebrations of former South African President Nelson Mandela's birthday at Batsogile Primary School in Soweto.
"Let us exercise our individual power to change the world. Let us make every day a Mandela Day!" the National Assembly statement said.
At celebrations around the country, people sang the Mandela birthday song that had been composed for this special date.
Millions of schoolchildren began their school day with this special song ringing with the line: "We love you father."
Mandela himself celebrated quietly with his family in his village home of Qunu, according to the local media.
The family celebration included a traditional meal of tripe and samp, a corn dish popular in Mandela's birthplace, his granddaughter Ndileka Mandela told the Sowetan newspaper.
"We will probably have food like samp and tripe, his favorite food," she told the paper. "The big lunch will be at 16:00 where we will present him with a cake."
Mandela became the first democratically-elected president in South Africa in 1994 after decades of struggle against apartheid, including 27 years in prison.
Following his release from prison in 1990, Mandela promised that he would place the remaining years of his life in the hands of the people. He won the 1993 Peace Prize with Frederik Willem de Klerk, last president of apartheid-era South Africa "for their work for the peaceful termination of the apartheid regime, and for laying the foundations for a new democratic South Africa."
On Nov. 10, 2009, the UN declared July 18 an annual "Nelson Mandela's International Day" in recognition of his contribution to the culture of peace and freedom.
Editor:James |Source: CNTV