Yahaya: Hi, my name is Hanza Ibrahim Yahaya, I'm from Nigeria. I'm a student in China and a businessman at the same time.
I use to even laugh at Chinese if they speak Chinese because I think, it's kind of very difficult language. I've decided in my mind that I could never speak Chinese.
Before I came to China, I never thought I would come to China to see very beautiful and kind of a bit organized city like this.
When I came, I started experiencing many problems. I was saying no no I have to go back to my country, I can't stay in this very horrible condition. The police are arresting me, are interrogating me and the Chinese are looking at me like they don't want me to stay in China. The later I'm living and living, I started realizing that, no it's not the problem of the Chinese, and the Chinese government. It's our own problems. We Africans living here in China. Because if we have been staying innocently here, I think nobody will treat us bad.
Yahaya comes from a family of 17 children with a strict upbringing. He now works in trade, where he buys and sells different kinds of goods between Nigeria and China.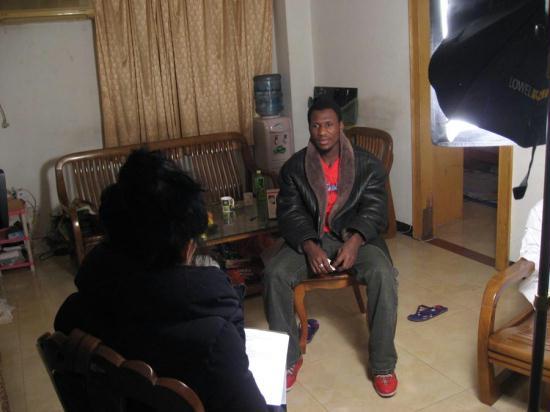 Interviewed Yahaya for about an hour covering topics that ranges from his
daily life in Beijing to his future endeavors. Yahaya's dream is to become
the president of Nigeria.
I'm helping a customer now. I'm going to buy it and send it to Africa.
Like this one I bought it before already, I have some in Africa.
CCTV reporter: This is popular?
HanzaIbrahim: Actually yeah.
These kinds of flower designs. I want two of these.
Yahaya ordered about 2000rmb worth of umbrellas in 3 different colors and he explained why thoses tyles appeal most to Nigerians.
Evening filming at Yahaya's apartment.
This one we don't like because the kind of our culture actually we don't really like something that looks like statues, something like human being or even animals. Kind of this structure actually we don't really like it. We only like this because it's kind of very good looking.
So now we are going to another market to get something.
This is the second hand computer marketthat Yahaya usually goes to. He is not looking for a specific brand; all he need is a fairly priced computer that functions well.
Can I go online?
Yes you can.
Do you want to test it?
Yes.
After 30 minutes Yahaya was able to choose a computer. Now he is going to head back home and prepare for the next day. Working in China gives him great satisfaction but there are two major goals he would like to accomplish in the near future.
I want to have a family soon, because I don't want to suffer by myself doing this going there, but I don't have anyone to care for. I always sleep with my friends. I'm supposed to have a wife and a son.
Big dream of mine is to be a politician in Nigeria. I wish one day to have even to held Nigeria in general, to control Nigeria I really like that.And I have that dream and I wish one day I will achieve it. One day you'll see. I pray for this.
Look forward to your feedback. coverstory@cctv.com
Editor:James |Source: CNTV