Related News:
The first Boeing 787 Dreamliner of the Ethiopian Airlines on Friday landed at the Bole International Airport in Addis Ababa, Ethiopia, which makes the Ethiopian the first African airliner to operate the B787 Dreamliner.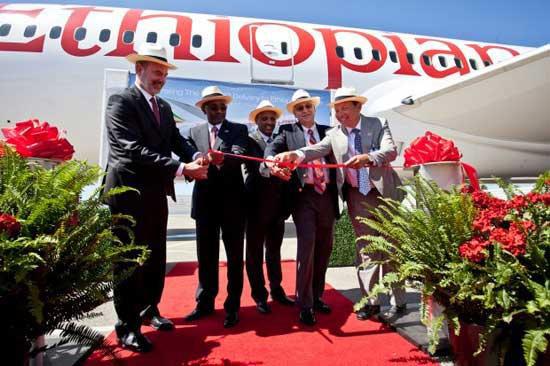 The first Boeing 787 Dreamliner of the Ethiopian Airlines on Friday landed at the
Bole International Airport in Addis Ababa, Ethiopia.
The Ethiopian Airlines, the fastest growing airliner in Africa, has become the first airline outside Japan to operate the Boeing 787 Dreamliner.
The Ethiopian will be flying the plane for sightseeing flight to Kilimanjaro on Saturday with a batch of about 270 people consisting of ministers, ambassadors, other VIPs, Ethiopian ShebaMiles Gold Members, and the media among others.
Receiving the Ethiopian crew and officials, Hailemariam Desalegn, Ethiopian Deputy Prime Minister and Foreign Minister, said as Addis Ababa is the political capital of Africa, the Ethiopian Airlines represents Africa and its deserves to have the B787 Dreamliner.
He also congratulated community of the Ethiopian Airlines, especially the leadership for the success of having the B787 Dreamliner.
Stating that the Ethiopian is the fastest growing airliners in Africa, the minister expressed his firm belief that it sustains the progress and growth in the future.
He said the government of Ethiopia would provide unreserved support to the airliner.
The airplane made the flight from Seattle to Ethiopia after a brief stop in Washington D.C.
Driba Kuma, Ethiopian Minister of Transport, noted on the occasion that the arrival of the B787 is a major milestone not only for the Ethiopian Airlines but also for African aviation industry.
Tewolde Gebremariam, Chief Executive Officer (CEO) of the Ethiopian Airlines said, "I would like to congratulate Ethiopians residing in Ethiopia and outside Ethiopia, all over the world; this is the Ethiopian pride."
He revealed that there were many ups and downs till the Ethiopian receives the plane.
The CEO was speaking to the press last week and said that the Ethiopian had waited long to receive it.
"It is very interesting plane. We have waited long; but, having seen the airplane we think that it is worth waiting; it is a very good airplane, technologically advanced, quite different from the existing jet technology; and the entire population of the Ethiopian Airlines, the entire population of Ethiopia, and the people of Africa, all of us are excited to receive the first 787 next week here at the Bole Airport to be followed by a Dream Tour to Kilimanjaro," said Tewolde.
According to the Ethiopian Airlines, starting from Aug 19 the first Ethiopian Dreamliner will be operating on rotation basis to African destinations as well as international ones such as Dubai, Mumbai, Rome, London and Frankfurt.
Having made its maiden international flight to Cairo, Egypt, in 1946, the Ethiopian Airlines flies to 69 international destinations spanning four continents.
Related stories
Editor:James |Source: CCTV.com