By CCTV correspondent Tom Walsh

Addis Ababa based Ethiopian airlines has scored another first by launching Africa's first Boeing 777 Freighter cargo plane. This comes a few weeks after introducing the Boeing 787 dreamliner passenger aircraft into African skies.
The airline plans to take delivery of five more 777 freighter planes to consolidate its cargo network in 15 destinations in Africa, seven in the Middle East and two in Europe.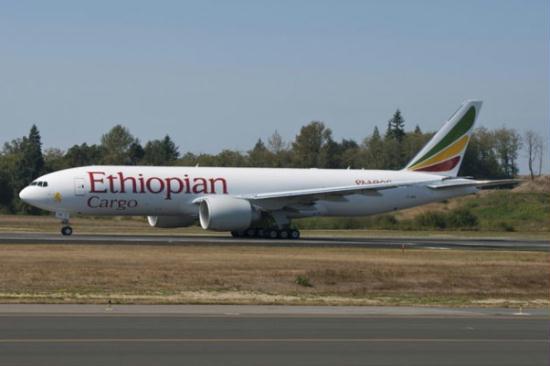 Addis Ababa based Ethiopian airlines has scored another first by launching Africa's first
Boeing 777 Freighter cargo plane.
Breaking aviation history, Ethiopian airlines is once again making its mark on the continent as it receives Africa's first Boeing 777 Freighter. Only last month the national carrier made another milestone by being the first African airline to receive and operate the Boeing 787 Dreamliner. Now this latest state of the art long haul freighter will add to the already 6 cargo planes that operate to 24 of its destinations worldwide.
For its CEO Tewolde Gebremariam it's a proud day for him as well as for Ethiopia. he said, : "Very excited, very happy of course not only myself but also on behalf of the 7000 employees of Ethiopians Airlines and the entire Ethiopian population, I think this is a very exciting period for our vision in Ethiopia."
With another 6 on order the 777 freighter is specifically designed for long haul flights. With a range of over 9000 km carrying a maximum cargo load of 112 tones it's fuel efficient design translates into significant savings for cargo holders. The on board temperature control allows the plane to transit, fresh produce and life science materials, which for the country's booming flower export market is vital.
Tewolde Gebremariam said, "For the export sector in Ethiopia it means a lot because we are going to use it more and more frequently on the European route mainly to cater to the export of flowers because you know flowers are a very perishable commodity. This makes the flower to reach the market faster and fresh because it has better temperature control than the existing technology."
The country's economy is primarily based on agriculture, which in turn accounts for 75% of exports. The 777 freighter therefore comes as a welcome relief for Ethiopian exporters looking to capitalize on this growing market.
With the arrival of the 787 Dreamliner and now the 777 Cargo plane Ethiopian airlines can now take more passengers further as well as all their goods.
The airline motto is 'leading the way past, present and future' and with two of the industry's most advanced aircraft being received in just over a month it seems Tewolde Gebremariam and Ethiopia Airlines are on track for their 2025 vision of being the leading aviation group in Africa.
Related stories
Editor:James |Source: CCTV.com