Watch Video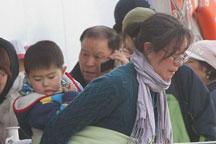 Play Video
Residents are evacuating the shelled South Korean island of Yeonpyeong, after South Korea and the DPRK traded fire near a disputed maritime border off the peninsula's west coast. The clash left at least 4 South Koreans dead, including 2 soldiers. Another 16 were also injured. Two senior citizens were among the dead. The country's troops are on high alert and residents on the island headed for South Korea's mainland port city of Incheon, fearing another round of artillery exchanges. Peter Koveos has further details.
Officials are still trying to identify the bodies of the two senior citizens found.
South Korea says the skirmish began Tuesday when the DPRK warned the south to halt military drills near their sea border.
Following the altercation, South Korea put a halt to aid heading to the DPRK. Red Cross talks over reunions of families separated by the Korean War are also being postponed.
Troops are on high alert after the incident and are vowing a massive retaliation should the DPRK attack again.
South Korea's Defense Minister says reinforcements will be sent to five islands near the disputed sea border.
Kim Tae-Young said, "We raised the surveillance alert by one level, and we are maintaining the cooperation system with the United Nations Command while we continuously share information on the situation."
Meanwhile, families began fleeing the South Korean Island of Yeonpyeong before dawn Wednesday in fears of more attacks from the DPRK.
They leave behind the wreckage of their burnt-out homes.
Yoo Dah-Yeon, 10-year-old evacuee, said, "In the early morning, it was a sea of fire. A fire was set on a hill right behind the school, the building's library was burnt down."
The evacuees were ferried to safety by coast guard boats from Incheon, a port city in northwestern South Korea.
Earlier in the day, the city organized a shipment of relief items to the shelled islet.
And on the South Korean mainland, family members came to a military hospital to pay their respects to the two marines killed in the exchange of fire.
15 other marines and 3 civilians have been injured.
The DPRK has not provided figures for their casualties.
Meanwhile, the US and South Korea will continue with their joint drill despite the most serious skirmish in the area in decades.
November 24, 2010, Incheon, South Korea: Dozens of artillery shells fired by North
Korea struck the South Korean island of Yeonpyeong, reportedly causing injuries,
killing two marines prompting return fire from South Korean troops. The incident
comes amid tensions over North Korea's nuclear program and the announcement of
North Korean leader Kim Jong Il's youngest son as his successor.