Watch Video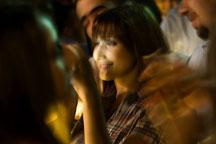 Play Video
Growth is not the norm, in today's global economy. But in one Palestinian city, the indicators, look promising. Our correspondent Stephanie Freid, reports on the West Bank city of Ramallah. where the situation is looking up.
Bailout. Unemployment. Slowdown.
They're terms that have become synonymous with today's global economy.
But in one Palestinian city, the outlook is different.
Ramallah, home to twenty-five thousand West Bank Palestinians, is experiencing growth.
8% during the last year, according to economic analysts, who say that number will continue climbing.
Unemployment is down, foreign investment is on the rise and poverty has dropped by a third.
Experts say this is to be expected.
On the ground, the influx to the area is visible.
Construction is ongoing, the high tech sector is expanding and luxury properties are popping up throughout the city.
This month a 5-star, Swiss hotel chain opened a branch location here.
With luxury properties running between five hundred thousand and 2 million U.S. dollars, lifestyles here contrast sharply with Gaza, the largest Palestinian territories city.
Israel's closure of Gaza borders to almost all imports as a way of keeping weapons from getting into the enclave has created crisis economic conditions there.
When compared with Gaza or neighboring West Bank cities, critics say Ramallah's economic hub status is misleading and that the current upswing is a bubble doomed to burst.
One thing both sides agree upon is that on-again-off-again peace negotiations with Israel have not impacted here. The economy is developing in spite of politics.
CCTV correspondent Stephanie Freid "Bubble or not, here on the ground the population is riding the economic wave as long as it remains high. For CCTV, this is Stephanie Freid in downtown Ramallah".
Editor:Zhang Jingya |Source: CNTV.CN