Watch Video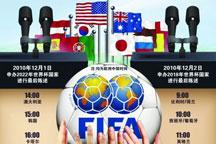 Play Video
Five candidates are bidding to host the 2022 World Cup. Australia, South Korea, Qatar, the United States and Japan all made 30-minute presentations, at the FIFA headquarters in Zurich, Switzerland, Wednesday. FIFA's 22-member executive committee, now faces a REALLY tough choice.
Australia called on FIFA to recognize it as "the world's greatest playground," and asked for the right to stage the 2022 World Cup in the only continent never to host football's biggest event. It promised to host a profitable and secure tournament despite concerns that its sparse population could mean not enough audience.
South Korea highlighted the prospect of peace and a united Korea when it made its final appeal. It downplayed the recent flare-up of violence, and insisted that football had the power to bring people closer and be an agent of political change to end the standoff between the North and the South on the divided peninsula.
Qatar asked FIFA to take a "bold gamble" by taking the World Cup to the Middle East for the first time in 2022. It said again that the desert nation's extreme heat will not be an issue. The country presented the most technically ambitious plans for a World Cup, stressing that the compact nation has the finances, resources and technology to overcome any logistical challenges.
The United States said at the presentation that the popularity of the world cup game has increased enormously in the country. It highlighted the growth of football in the country since it hosted the 1994 World Cup. It noted that no infrastructure needs to be built to host the tournament in the US. In addition, the US stressed good money-making prospects.
Japan said it would broadcast the games to 400 locations around the globe using revolutionary 3-D technology that would make spectators feel as though they were experiencing the actual match. It also boasts good infrastructure and past game experiences. But, working against its bid, the government does not give enough support due to slow economic growth in recent years.
FIFA will decide who made the most persuasive bid on Thursday.