Watch Video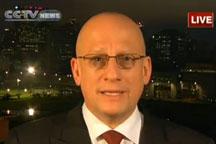 Play Video
What does all this mean for Asia? For further analysis, let's go live to Bangkok and to Steve Kraus, head of UNAIDS in the region.
1. Thanks for joining us. India, Thailand and Nepal all saw a 25-per cent drop in new HIV infections. What brought about that shift?
2. You said before the best programs are the ones that have the input of the people who will benefit from them. Like, sex workers for sex workers. Elaborate for us.
3. And one final question. Asian culture often means that sex the main cause for HIV transmission isn't discussed openly. Breaking that silence has to be the first step. For anyone watching now, how can we get a constructive dialogue going in their home?
Related stories
Editor:Zhang Jingya |Source: CNTV.CN