Watch Video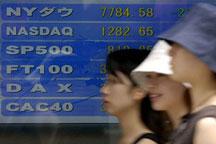 Play Video
If one word can describe the Asian economy in 2010, it would be "dynamic". Over the past year, developing Asian economies posted solid growth, thanks to sound fundamentals and supportive monetary and fiscal policies.
The global recovery may be sluggish, but Asia's economic prospects remain bright, with some of the region's economies even growing at pre-crisis levels.
Economists say developing Asia is now leading global recovery. The region sees boosted domestic consumption, and high business confidence.
It's also enjoying a rebound in exports. But several factors have raised concerns over sustainable growth. They include sudden capital inflows, currency appreciation and inflation risk.
For details, let's first turn to Japan, the continent's most developed country. As such, Japan's economic situation differs from most parts of the region. Trying to recover from a long recession remains the main theme.
Editor:Zhang Pengfei |Source: CNTV.CN