Watch Video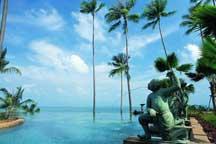 Play Video
The 1997 Asian financial meltdown took a heavy toll on the region's economies. Yet Thailand and the Philippines have proven to be resilient to the lingering global crisis in 2010.
These countries have managed to check fiscal deficit, government and external debt, and release timely stimulus packages to bolster consumption.
Next our correspondent Tony Cheng reports from Bangkok, telling us how Thailand is emerging from the global crisis, as well as from economic woes triggered by a domestic political crisis.
It's been a funny year for Mr Worasit 6 months ago, not a single one of his tour buses was out on the road.
Six months later, things couldn't be more different. Bookings have gone up by five times Some of his old customers eventually came back but new bookings came in too.
Worsasit Huayhoingthong, Hongthong Transport Group, said, "If the government can continue to handle this like they have, then the situation should be fine but if not, then of course it will definitely affect our business."
The Red Shirt demonstrations that closed down much of the Thai capital in April and May were very bad for Thailand's image. Pictures like these flashed across the world, and hundreds of thousands of tourists decided to stay away. For the 3rd year in a row, Thailand's political ills spilled over into the economy. But things in the all-important export manufacturing market stayed on track.
Foreign investment remained high too despite fears that investors might look elsewhere With growth rates of more than 7% in 2010, the forecast for 2011 is looking good.
But one big problem does remain the Thai Baht is now at its strongest for more than a decade Nonetheless, some say that should just be a temporary blip.
And while the economic prospects do look good for the new year, the dangers of turbulent politics are all too easy to see.
Given the center of Bangkok was effectively closed for two months, it is quite remarkable the Thai economy has bounced back so quickly. Nonetheless, people here are all too aware of the unrest that lies beneath the surface and their optimism for 2011 is matched with caution, that the political stability could slip up again.