Watch Video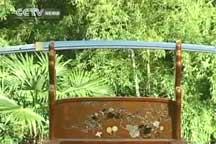 Play Video
Swordsmanship lies at the heart of the Japanese Samurai tradition. No longer used for battle, thousands still train in the weapon's drawing and cutting techniques, through the martial art known as Iaido.
For many practitioners, the blade of choice is made by craftsmen, and they now hope to preserve and further develop this 400 year old heritage.
Shigefumi Adachi, who lives in the Wakayama Prefecture mountain village of Ryujin, is regarded as Japan's finest swordsmith. He won the top prize for craftsmanship last October, during a competition in which the nation's best weapons-makers participated.
The 52-year-old uses a technique in which 4 steel components, containing different levels of carbon, are folded into the final blade.
Seiryu Shimizu, an Iaido practitioner for more than 50 years, now uses an Adachi creation himself.
Seiryu Shimizu, Iaido practitioner, said, "Swords are now often evaluated as works of art. From this perspective, we can't really make a judgment. But from a user's viewpoint, Mr. Adachi's work is the best in the country. His blades are beautiful, perfectly balanced, cut exceptionally well, and are extremely durable."
As with many traditional Japanese industries, very few craftsmen remain today. Preserving an artform that has been practiced and perfected for more than 4 centuries is Adachi's major concern.
Shigefumi Adachi, Samurai Swordsmith, said, "If someone comes to me who really wants to learn, then I will take them on as an apprentice. I would like to teach. The skills were passed down to me and, in turn, I would like to pass them on to someone else."
The swordmaking process normally requires an entire month to complete. When sharpening, polishing, and other techniques are included, it takes at least a half-year to finish each weapon, a necessary investment to pass this cultural treasure down to future generations.
Editor:Zhang Pengfei |Source: CNTV.CN