Watch Video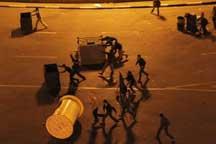 Play Video
Egyptian President Hosni Mubarak, has extended the curfew in Cairo, Alexandria and Suez because of protests.
The curfew, previously from 4 p.m. to 8 a.m., now starts an hour earlier from from 3. Meanwhile, massive protests are still raging in a number of cities, which have so left more than 100 people dead. In the capital, Cairo, the most immediate concern is fear of looting, as public order takes a nose dive.
Angry mobs have already stormed banks, supermarkets, jewelry shops, and government offices. Several prison breaks were also reported. Armed forces have been sent to certain jails to maintain order.
Police forces were ordered to return to the streets on Sunday, two days after their disappearance, to coordinate with the army, to restore security and control violence this can be seen with the increase of military tanks and vehicles now on many more streets.
Also patroling the skies, fighter jets they would swoop low, now and again, in what appeared to be a display of military might and control.
Editor:Zhang Pengfei |Source: CNTV.CN