Watch Video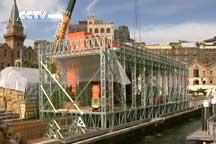 Play Video
A new icon is about to grace Sydney Harbor's skyline. but it'll only be around for ONE month. The Greenhouse Cafe is an eco-friendly, self-sustaining eatery, currently touring around the world.
It's being constructed in a prime waterfront location at Sydney Harbor.
But despite its million dollar views, the Greenhouse Cafe is designed to cost the environment nothing.
The eatery will feature a rooftop garden, water recycling unit, and generator that reuses cooking oil.
All the food will be organic, and many ingredients will be grown right on the roof.
Joost Bakker, Designer, said, "We've completely lost that sense of understanding about the growing and eating. If you order rolled oats at this restaurant, we'll roll them at the table for you. So you'll see the oats, and if you want to know where they come from, we can tell you the farmer that grew them. And I think that's the way it should be."
Bakker maintains that the Greenhouse aims to serve honest, ethical food that doesn't cost the Earth anything.
Joost Bakker, Designer, said, "Lettuces, carrots, that stuff should be grown, can be grown in cities. We've got waste water -- every person that lives has a couple hundred liters of waste water every day. That can be utilized for growing food right on that spot."
The designer also says he wants to demonstrate that the technology for sustainable living is already available.
The Greenhouse Cafe was delivered to Sydney in four shipping containers, and will take about 14 days to assemble.
Around 1,000 customers are expected to be served daily, once it opens on February 8th.
Editor:Zhang Pengfei |Source: CNTV.CN