Watch Video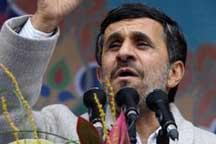 Play Video
Iran's President, Mahmoud Ahmadinejad, says he's positive about finding a solution to his country's nuclear standoff with world powers.
In an interview with Iranian State Television, the President said his country is always ready for negotiations. Ahmadenejad added that he believes Iran and the West can definitely reach consensus.
Mahmoud Ahmadinejad, Iran's President, said, "We want to negotiate with world powers over Iran's nuclear program for cooperation and friendship. We do not want the outcome of any talks to be increased hostilities. All sides have put forward their viewpoints. And I think, through a timed and step by step plan, we can move ahead."
Editor:Zhang Pengfei |Source: CNTV.CN