Watch Video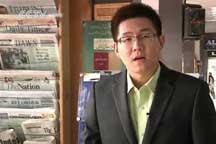 Play Video
A decade ago, most of Pakistan's media was state-run. Today, the majority of the country's print and broadcast outlets are privatized, and reflect diversified ownership.
In today's segment of "Inside Pakistan," our reporter Wang Guan tracks the emergence of the nation's free press, and how it now drives social and political reforms.
In tomorrow's segment of "Inside Pakistan," we will focus on educational improvements around the country. Our reporter Wang Guan will show us how private-sector efforts are complementing the traditional system, and changing the face of learning around the nation.
Pakistan's media landscape has undergone dramatic changes over the past two decades.
In the early 1990s, Pakistan Television Corporation, or PTV, was the country's sole TV broadcaster, and there were few independent newspapers.
In 2002, then-President General Perez Musharraf lifted a ban on private broadcasting. This move paved the way for commercial television and radio channels to grow substantially. By 2010, the majority of Pakistan's 77 national and regional satellite and cable TV channels were independent.
Facing cut-throat competition as the only state-owned network, PTV was forced to adapt its ways to stay in business.
Sultan Hali, PTV Anchor, said, "Unlike common perceptions that PTV is a helmsman of the government, which did what government says, is not true any longer. We have to compete with private media. But that doesn't mean we go overboard. We try to give both sides of the picture. People who used to only watch PTV, now they have the private channels which give them diverse opinions."
"Besides the exponential growth of private TV channels, there has also been a springing-up of independent newspapers. Taking a walk around any community here in Islamabad, one can easily find newspaper stands like this. Newspapers here are very vocal and critical of the policies and even key government officials. This wave of independent journalism has been contributing to the growing democracy of Pakistan."
Pakistan's media helped shape the political agenda during the 2008 Presidential election.
Just a year earlier, Musharraf fired some 60 judges, and suspended the Supreme Court's Chief Justice.
Major commercial networks, such as GEO TV and ARY One World, accused Musharraf of abusing his power. Internet-users also launched a campaign through blogs and mailing lists criticizing the government's interference with the judicial system. The independent media coverage and online uprising were instrumental in bringing about President Musharraf's eventual resignation.
In the following Presidential ballot, commercial TV networks provided a forum for opposition parties to campaign and present their views. At the same time, more than 20-thousand citizen journalists hit polling stations across the country, armed with little more than camera phones. They played their role by monitoring the election to ensure it was free and fair.
The country's media has also embraced its watchdog role by scrutinizing politicians' actions and highlighting social problems. Exposing corruption, pushing religious tolerance, and reporting violent attacks in a timely manner now form part of Pakistani journalists' daily routine.
Raheel Khan was a veteran reporter before he took up his post as head of the country's National Press Club based in Islamabad. He believes ordinary Pakistan is reaping the greatest benefits from an independent press.
Raheel Khan, Director of Pakistani Nationakl Press Club, said, "Now you have open debates on TV channels. And you can see, there is not linear information. There are discourse on which different analysts and political leaders present their views. Sometimes they agree and sometimes they don't. There is dialogue that helps people to understand issues in reality."
However, the country's media regulators have different views on the merits of a free press.
They believe Pakistani reporters need better training.
Shah Zaman Khan, Principal Officer, Pakistan Ministry of Information, said, "They get this freedom too abruptly they don't know how to use it they need to be better trained and."
Despite being treated with wary suspicion by the government, Pakistan's fledgling independent media has driven significant social and political change over the past decade and is expected to play a larger role in bringing the nation's future reforms.
Related stories
Editor:Zhang Pengfei |Source: CNTV.CN