Watch Video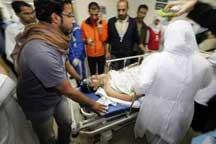 Play Video
Troops took control of the capital Manama on Thursday, after riot police fought demonstrators on the streets, killing four people.
More than 200 have been wounded. The country is witnessing its worst violence in decades. The protesters are pressing for political and economic reforms.
In a pre-dawn raid in Manama on Thursday, police attacked an anti-government protest camp on Pearl Square and cleared the protesters.
Military troops in armored vehicles then took control of the area, which demonstrators had tried to turn into a protest base like Cairo's Tahrir Square.
State television later aired video footage of swords and knives, as well as pistols and bullets, they claim police found in tents of anti-government protesters in the capital of Manama.
The government acknowledges policemen fired rubber bullets and tear gas to disperse the protesters.
But they say police action was necessary for the well-being of Bahrain.
Sheikh Khaled Bin Ahmed Al-Khalifa, Bahrain Foreign Minister, said, "The country was walking on the brink of a sectarian abyss, so it was a very important step that had to happen. Police took every care possible but there is nothing that guarantees a mishap couldn't happen, and that unfortunately led to deaths."
Following the raid, a powerful opposition group walked out of the Bahrain parliament in protest at the authorities' crackdown.
Khalil Al-Marzouq, Al-Wefaq Member of Parliament, said, "Whoever thinks threatening to use the army or normal security forces and opening fire on demonstrators can stop them from pursuing their demands is totally wrong."
The protesters' demands have two main objectives: force the ruling Sunni monarchy to give up its control over top government posts and all critical decisions, and address deep grievances held by the country's majority Shiites.
They claim they face systematic discrimination and are effectively blocked from key roles in public service and the military.
The government denies such claims.
Related stories
Editor:Zhang Pengfei |Source: CNTV.CN