Watch Video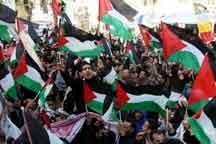 Play Video
Thousands of Palestinians demonstrated in Ramallah, calling for an end to Palestinian divisions. Meanwhile, Palestinian President Mahmoud Abbas says elections won't be held by September, if Hamas does not allow voting on their territory.
Thousands of Palestinians protested in the West Bank city of Ramallah. They are demanding the Islamist Hamas ruled Gaza Strip and Fatah ruled West Bank unite under one government.
The chanting protesters also demonstrated against a US veto on a possible United Nations Security Council resolution condemning Israeli settlements in the West Bank.
Meanwhile, Palestinian President Mahmoud Abbas says an election promised by September would not be held if Hamas refuses to allow voting in the Gaza Strip.
Mahmoud Abbas, Palestinian President, said, "The question of holding parliamentary and presidential elections only in the West Bank is completely unacceptable. The elections must include the West Bank and the Gaza Strip and without this we will not hold elections."
The election promise was issued by the Palestine Liberation Organization in an apparent bid to head off any wave of popular protest fanned by the uprisings elsewhere in the Middle East.
But, Hamas says any elections would not be possible without reconciliation.
Ismail Radwan, Hamas Spokesman, said, "This means that Mahmoud Abbas is indecisive as well as Fatah's authority on the issue of elections and that is proof of the honesty of Hamas. And any elections won't be possible unless there is reconciliation, as a result of reconciliation and agreement."
Hamas, an Islamist movement opposed to peace with Israel, controls the Gaza Strip where 1.5 million Palestinians live. Abbas's Palestinian Authority holds sway in the West Bank. The two territories are separated by Israel, and both would form a single state under a peace treaty with Israel.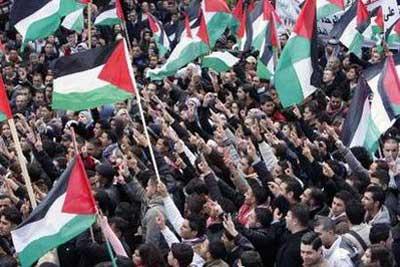 Palestinians wave flags during a protest in the West Bank city of
Ramallah February 17, 2011 calling for an end to Palestinian
divisions. REUTERS/Mohamad Torokman