Watch Video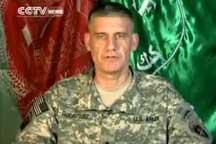 Play Video
Deputy US Commander in Afghanistan, Lieutenant General David Rodriguez, has apologized for a NATO air strike in the eastern Kunar province which killed nine children. Nick Jones has the story.
An apology is rare, but late.
Nine children were killed in a NATO air strike on the town of Mano Gai on Wednesday.
Lieutenant General David Rodriguez, Deputy US Commander in Afghanistan, said, "On behalf of the coalition and based on the initial findings of a combined assessment team I want to offer my sincere apology for the killing of nine children in Dara-I-Pech district in Kunar province yesterday morning."
Members of the Afghan parliament have angrily denounced two recent NATO strikes in the eastern province.
More than 73 civilians have been killed, almost half of them children.
NATO recognizes civilian casualties are a strategic problem undermining the support of ordinary Afghans in the decade-long war against insurgents.
Residents in Kabul are calling for those responsible to be put on trial.
Enatatullah Khan, Kabul Resident, said, "An apology is not enough, it is not the first time that they have killed our poor and innocent people. We don't accept their apology. They must go on trial in Afghanistan or in the international court for their action. They have apologized in the past but continue killing our people again and again."
Afghan President Hamid Karzai has also condemned what he calls the "daily" killings of innocent Afghans in foreign air strikes.
Violence across Afghanistan is at its worst since the Taliban was ousted in 2001,
A United Nations report late last year found that civilian casualties in Afghanistan rose 20 percent in the first 10 months of 2010 compared with 2009.
Related stories
Editor:Zhang Pengfei |Source: CNTV.CN