Watch Video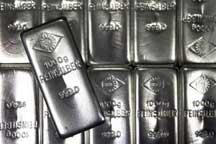 Play Video
In India, the escalating rates of silver in 2010 have damaged business of craftsmen and traders in Jaipur, the capital of India's northwestern Rajasthan state.
According to market analysts, the price of silver has increased at a much higher rate than gold last year, making it a favorite for investors.
The rates of silver have soared by around 45 to 47 percent, while gold prices have increased only by 22 to 25 percent during the last year.
Meanwhile, the rate hike has hit the industry badly as traders say it has become difficult for them to purchase raw silver.
Ramchandra Saraf, Silver Trader, said, "Silver was earlier available for 35,000-36,000 Rupees($777-800) per kilo but it is now available at 50,000 Rupees($ 1,110). With this hike, our trade has declined. There was a shortage of raw silver for the craftsmen as well. We are paying heavily as the rates have gone up."
The traders say they now face a decline in business, as they do not get any profits from the export of silver jewelry due to its high costs.
Paras, Siver Trader, said, "In export the rate would be fixed. We would have to export at the same rate as it has been fixed earlier. With the increase in rate of silver, we are facing difficulty as we have to export at the earlier rates. This brings loss for us."
Jaipur is a leading manufacturer and exporter of filigree and other articles made of silver in India, a major consumer of silver.
Around ten thousand workers are involved in this trade for lifetimes in the city, where silver has been used to make jewelry and other ornaments.
The current rate of silver is fifty one thousand Rupees, or over one thousand two hundred US dollars per kilogram. And according to market analysts the hike is set to continue.
Editor:Zhang Pengfei |Source: CNTV.CN