Watch Video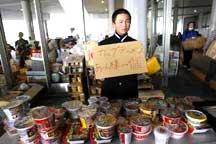 Play Video
Volunteers and donators turned up in droves at an evacuation center near Tokyo. They came to help those fleeing Japan's nuclear radioactive zone.
Hundreds of enthusiastic volunteers and donors turned up at an evacuation center on the outskirts of Tokyo Sunday, eager to help evacuees who fleeing the nuclear radioactive zone in Fukushima.
Around 23-hundred people are currently staying at the Saitama evacuation center. The center has recruited more than 1,000 volunteers since it was set up on Saturday, but many more residents are keen to join.
Sayaka Ito, Volunteer Applicant, said, "I felt powerless looking at those suffering, and I was frustrated I couldn't do anything for them. So, when I saw them on television coming to Saitama, I searched for their location on the Internet and came here to help them."
Apart from signing up for volunteer work, some residents also brought provisions, like diapers and blankets, they thought were most needed. But evacuation centers are still short of essentials, such as toothbrushes and soap.
Mio Kikuchi, Donator, said, "I just brought in some daily supplies from my house because I want to do whatever I can."
Chihiro Maruyama, Charity Worker, said, "Goods are overflowing here, and they keep coming in, even today. But some expendable supplies, such as toothbrushes or soap are in short supply."
Japan made progress on Sunday in its race to avert disaster at the Fukushima nuclear power plant. But residents are not reassured. Many have ignored central government orders to stay indoors,choosing to flee.
The nuclear crisis aggravates pressure on Japanese authorities to provide relief to some 390-thousand people, including many among Japan's aging population...left homeless by the double disaster.
Yaiko Kikuchi, Fefugee from Iwaki, said, "I was brought here by bus late last night, and I didn't know where I was heading in the dark. I only knew I was in Saitama after I listened to the radio, but I've never been here. I feel nervous."
Evacuees are battling near-freezing temperatures in shelters in northeastern coastal areas. Food, water, medicine and heating fuel are in short supply.
Related stories
Editor:Zhang Pengfei |Source: CNTV.CN