Watch Video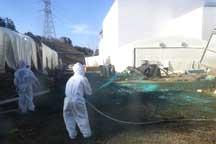 Play Video
In Japan, where the operator of the country's Fukushima nuclear power plant has sprayed a mixed synthetic resin to contain radioactive material inside the plant.
The Tokyo Electric Power Company sprayed an area of 200 square meters near the Unit 4 reactor for one hour. The synthetic resin was mixed with a special green additive to verify the effect of the spraying.
Although the synthetic resin cannot shield radiation, experts hope it will prevent radioactive partials from spreading.
If it works, the company will spray another 60-thousand liters of synthetic resin on the plant over the next two weeks.