Watch Video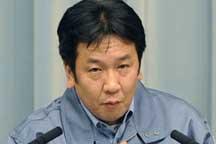 Play Video
The Japanese government says it set to begin reconstruction, three weeks after the devastating earthquake and tsunami hit the northeast of the country. Officials said the disaster has caused 300 billion US dollars in damage.
Chief Cabinet Secretary Yukio Edano donned normal business attire during Friday's press conference, signaling the government's priority is now rebuilding the country.
He says reconstruction work will take longer than the 1995 quake in Kobe. He said it will be hard to give an exact time table as to when quake victims can return to their homes and start a normal life.
Japanese media reports say the government and the ruling Democratic Party of Japan have made draft bills to support rebuilding efforts. The bills call for five years of intensive reconstruction.
According to the bills, the government intends to compile a supplementary budget for fiscal 2011 by the end of this month, in order to finance post quake reconstruction projects. The extra budget for this purpose is between two to three trillion yen, or more than 24 billion US dollars.
Issuing more government bonds will be the main fund source. The government is also planning to adjust tax policies to eke out funds for reconstruction.
The government is also considering measures to help those who have been displaced by the quake, tsunami and nuclear crisis, to rebuild their homes. For affected enterprises and individuals, the government said it will offer compensation.
The draft also calls for adjusting the country's energy policy to reduce its reliance on nuclear energy. In order to resolve ongoing power shortages, the government will discuss a power supply plan with electric companies.
Japanese media says the ruling DPJ will submit the draft bills to the parliament next month.
Related stories
Editor:Zhang Pengfei |Source: CNTV.CN