Watch Video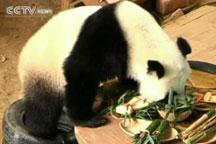 Play Video
The Zoo in Chiang Mai, Thailand, has celebrated the second birthday of giant panda "Lin Bing". Lin Bing is the first giant panda born in the kingdom.
Panda lovers flocked to Chiang Mai Zoo to join the celebration Friday, christened with a huge birthday cake carved with designs of China's Great Wall and the ancient city wall of Chiang Mai.
Lin Bing was born in 2009 through artificial insemination. Her parents were loaned to the Chiang Mai Zoo in 2003.
Chiang Mai is located at a mountainous area in northern Thailand with an average temperature of 21 degrees centigrade. Although the temperature is higher than Wolong, Southwest China's Sichuan province, the homeland of panda, it is relatively cool for Southern Asia. This allows Lin Bing to enjoy staying outdoors, even in summer.
Breeder of Lin Bing, said, "Chiang Mai's lowest temperature in winter is 10 to 13 degrees centigrade, similar to that in Wolong, Sichuan. So the giant panda does not have to stay in the air-conditioned room the whole day."
Editor:Zhang Pengfei |Source: CNTV.CN