Watch Video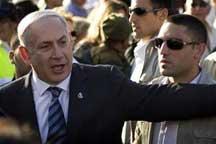 Play Video
Palestinians are planning to stage a protest on Sunday, which comes in response to another call on Facebook to cross Israel's borders on the 44th anniversary of the start of 1967 Middle East War.
Now this is the war, in which Israel captured East Jerusalem, the Gaza Strip, the West Bank and the Golan Heights.
Prime Minister Benjamin Netanyahu, says that Israel would ACT, to prevent any crossings of its borders when Palestinians plan a mass protest along its frontiers next week.
Benjamin Netanyahu said, "Like any country in the world, Israel has the right and duty to guard and defend its borders. Therefore my instructions are clear, to act with restraint, but with the necessary decisiveness to protect our borders, our communities and our citizens."
Thirteen people were killed on May 15th when Israeli troops tried to prevent thousands of Palestinian protesters in Syria, Lebanon and the Gaza Strip from crossing its borders.
Dozens of Palestinians managed to penetrate the border FROM Syria into the Golan Heights. Most, were returned later that day. Netanyahu said Iran, Syria, and their allies: Hezbollah in Lebanon and Hamas in Gaza, were responsible for inciting the previous demonstration and will try to repeat it in the coming days.
Editor:Liu Fang |Source: CNTV.CN