Watch Video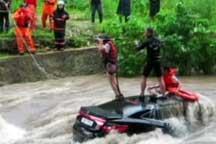 Play Video
At least 42 people have died in heavy rain storms this week in South Korea. Many others are missing. In the capital, Seoul, houses have been damaged and streets are under water. Mobile phones, the Internet, and radio waves have also been cut.
Flooding and landslides have paralyzed 36 main roads, while more than 66 thousand residents have suffered power failure across the country.
In Seoul, 32 main roads are cut, and more than 700 houses submerged. The water level in Seoul's Hangang River is rising and approaching the alert level of eight and a half meters.
With Seoul seeing 110 millimeters of rain, the state-run Meteorological Administration says this scale of deluge happens only once or twice in a hundred years.
The rain is forecast to continue until Friday.
Editor:Liu Fang |Source: CNTV.CN