Watch Video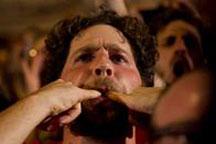 Play Video
Tens of thousands of Israelis have taken to the streets across the country to protest against rising housing prices and low wages. Sunday marked the largest turn out against the high cost of living since grassroots demonstrations began two weeks ago.
Tens of thousands of Israeli's take to the streets demanding economic reform.
Police say over 60,000 people demonstrated in Tel Aviv, Haifa, Jerusalem, Beersheba and six other cities, posing a major challenge to Prime Minister Benjamin Netanyahu.
Protester Omi Evron said, "I am here with many other thousands of Israelis to protest against the neo-liberal capitalist government of Bibi Netanyahu that is choking the working class and middle class families, young people and old people, Jews and Arabs, are choking under the economic burden."
Local media has dubbed the protests an uprising of Israel's middle class.
Economic growth in Israel is amongst the highest in the world, though ordinary citizens say high living costs mean they don't reap the rewards.
Protester Ido Cohen said, "We are protesting because unfortunately here in Israel we have a great economy on one hand, but from the other hand you can't really live with your salary, a simple citizen can't really live here."
Though commentators see no immediate threat to Netanyahu's ruling coalition, the Israeli leader is facing his biggest political headache so far, with his approval rating down 32 percent.
Editor:Zhang Jingya |Source: CNTV.CN