Watch Video
Play Video
China has expressed its "strong dissatisfaction " with Japan's 2011 defense white paper, saying it contains irresponsible comments on te growth and enhancement of China's national defense sector.
The Chinese Foreign Ministry said on Wednesday that China's reinforcement and modernization of its military and defense forces is entirely for sovereignty, territorial integrity and security purposes. IT's NOT targeted at any other country. China reaffirms its adherence to the path of peaceful development and the pursuit of a defensive national policy.
The Chinese Foreign Ministry also points out China's development benefits all countries in the world, including Japan. China calls on Japan to seriously reflect on its own defense policies and do more to deepen its mutual trust with neighboring countries.
In Japan's white paper:
Japan's defense white paper calls for attention to China
Japan released its annual white paper on defense on Tuesday. This is the 37th defense white paper issued by Japan since 1970. It states in the Defense of Japan 2011 report that attention needs to be paid to China's military activities.
Full Story>>
Japan defense white paper says alliance with US "indispensable"
The Japanese Defense Ministry has released its latest annual defense report, after being approved in a Cabinet meeting on Tuesday.
Full Story>>
Japan warns of cyber attacks on gov't information networks
The Japanese government has held a cabinet meeting on Tuesday, which endorsed the 2011 Defense White Paper. The annual report urges caution against cyber attacks and says the DPRK's nuclear and missile projects pose serious threats to national security.
Full Story>>
Security alliance with the US indispensable
The DPRK's nuclear and ballistic missile development programs were also addressed, and blamed for destabilizing regional security. In contrast, the white paper praises Japan's decades long security alliance with the United States as an "indispensable cornerstone for peace and stability of the Asia Pacific region." Full Story>>
Japan wary over PLA's modernization
Japan expressed concern on Tuesday over the Chinese military's recent maritime activities in its annual defense report, a week after Beijing officially announced its aircraft carrier program. Full Story>>
Analysis: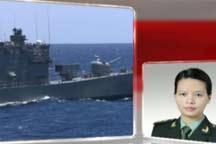 Colonel Zhao Weibin
Japan' s worry over China's maritime activities
The White Paper says China continues to expand its maritime activities in east and south China seas, and make activities "a routine practice" in the waters,how do you interpret it? Full Story>>
Editor:Zhang Jingya |Source: CNTV.CN