Watch Video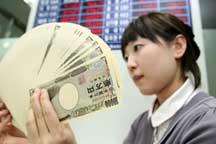 Play Video
With the dollar continuing to fall, the Japanese currency has hit record highs, and analysts say intervention to tame the yen is now becoming more likely.
Washington has finally reached a compromise agreement which has averted an unprecedented default, but the threat of a US credit rating downgrade continues to weigh on market sentiment.
The yen's climb to near record highs against the dollar has heightened the possibility of the Japanese government stepping in to weaken it, and for the central bank to follow suit with additional monetary easing.
The Yen fell from Monday's peak and is trading at around 77.3 to the dollar.
The Japanese government says its continuing strength is hurting an economy struggling to recover from the March the 11th earthquake.
Yoshihiko Noda, Japanese Finance Minister, said, "If the strong yen continues, it will unmistakably impact some industries. I want to closely analyze the potential impact. I am in contact with many different people about this matter."
Some exporters are also feeling the burden.
Takahiko Ljichi, senior managing officer, Toyota, said, "We are now considering using an overseas purchasing base to raise the import of components. We will use various kinds of measures to enhance the capability of resisting yen's appreciation"
Toyota reported a more than 100 billion operating loss for the first quarter, its first deficit in two years.
Bank of Japan Governor, Masaaki Shirakawa, says that at the next rate review on Thursday and Friday, the central bank will make an appropriate decision on monetary policy by carefully examining how recent yen rises will affect the outlook for the nation's economy and prices.
Editor:Liu Fang |Source: CNTV.CN