Watch Video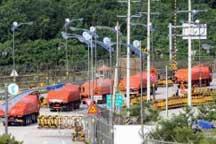 Play Video
South Korea has offered relief supplies to the Democratic People's Republic of Korea to help the country recover from recent floods. The move signals a continued thaw in tensions on the Korean peninsula.
South Korea's Red Cross has offered the flood-hit DPRK 4.7 million US dollars in humanitarian relief aid, including emergency relief materials and medicine.
The decision comes after Pyongyang's state media reported earlier this week that the country was hit hard by torrential rains between late June and mid-July. Some 8-thousand people are reportedly displaced, as heavy downpours destroyed nearly 30-thousand homes.
Damage is also extensive in rural regions. 60-thousand hectares of croplands were inundated, affecting the country's already chronic food shortage.
The United States has sent a team of officials to inspect the situation, but has not reached a decision on resuming aid. Seoul has said the food situation is not a humanitarian crisis.
The South's Unification Ministry, which handles affairs with DPRK, says Pyongyang has yet to respond to the Red Cross offer.
The offer was made as diplomats discuss a possible resumption of international talks meant to persuade DPRK to abandon its nuclear programs.
South Korea had virtually suspended aid to its northern neighbor following two deadly border incidents last year.
Editor:Liu Fang |Source: CNTV.CN