Watch Video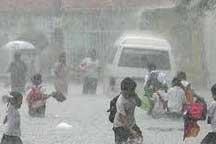 Play Video
With the arrival of a new super typhoon, Muifa, heavy rain is continuing to fall across many parts of Asia. Keith Crane has the details.
Heavy rainfall in central S.Korea
The rain has stopped in southern parts of South Korea, as it moves slowly northwards towards central regions. Some southern areas have raised a heatwave alert as the temperature soars to 33 degrees Celsius. However in the north, heavy rain has hit the capital, Seoul, and other central areas.
Typhoon Muifa is expected to move north along China's eastern coastline, west and south coast of S.Korea should be prepared for strong waves.
Schools closed in Philippines
The Philippine capital, Manila and surrounding areas, have closed all schools and government offices as Muifa approaches.
Thousands of people have been displaced as Typhoon Muifa batters several parts of northern and central Philippines. Muifa brought heavy rains Tuesday and Wednesday, causing a landslide in Bohol province, killing two children.
Two fishermen in Bulacan province died when their boat capsized, while a woman drowned in a creek in Metro Manila.
The National Disasters Risk Reduction and Management Council says Muifa has displaced 14,704 families in northern Philippines. The typhoon is forecast to leave the Philippines Friday afternoon, but monsoon rains are forecast to continue to over the northern Philippines and may trigger landslides and flash floods.
Cambodia warned of floods
Days of heavy rain in Cambodia have not had a bad impact on agriculture with farmers welcoming the rain.
A Cambodian farmer said, "There was no rain on the 25th or 26th. It rained on the 27th and 28th. With water, we can farm. I am very happy."
Despite the farmers' happiness, the typhoon has raised water levels on the Mekong River in Cambodia, threatening flooding in low-lying areas.
Yom River overflows in Thailand
More than 2000 houses in the Thai province of Phrae have been submerged. Rescuers are using boats, in 2 meter-deep water, to reach trapped people.
The Yom River rose dramatically Tuesday, flooding a large area, including government office, medical centers, schools and temples.
The level in the upper reaches of the Yom River is now going down, but the flood level around the lower reaches is still rising.
The flood-stricken area is so large that rescue efforts can not reach everywhere. Food shortages are becoming a problem for many of the stranded families.
Editor:Liu Fang |Source: CNTV.CN