Watch Video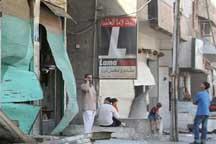 Play Video
Despite it being the Muslim holy month of Ramadan, clashes are escalating in Syria. Fresh explosions erupted early Wednesday in Hama, as President Bashar Assad's government shows no signs of halting the military assault against anti-government protests.
The United Nations Security Council will continue meeting after no agreement was reached in response to Tuesday's deadly violence.
Syrian tanks occupy the main Orontes Square in central Hama after heavy shelling of the city. All communications have been cut.
Syrian troops have tightened their siege on Hama since Sunday, sending residents fleeing for their lives. The death toll since Sunday has reached more than 150, but the exact figure is difficult to verify.
The plight of Hama has prompted many Syrians to stage solidarity marches since the start of Ramadan.
The operation has also drawn a fresh wave of international condemnation against the Syrian government.
Italy recalled its ambassador to Syria on Tuesday to protest the repression of demonstrations and is urging other European nations to do the same.
Italy is the first European Union country to act, although the EU has been tightening sanctions, imposing asset freezes and travel bans against five additional military and government officials.
US senators are calling on the Obama administration to impose tough new sanctions on Syria's energy sector.
Washington is also seeking to put muscle behind its demand that President Bashar al-Assad halt his lethal crackdown on protesters.
Syria's state media says though western countries have emphasized their concerns about Syrian civilians, they have totally ignored the crimes made by armed terror groups who are said to have murdered Syrian citizens and army members. The state media has also reported armed terrorists are pretending to be soldiers and are attacking civilians.
Editor:Liu Fang |Source: CNTV.CN