Watch Video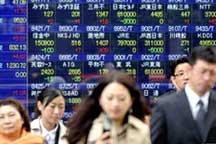 Play Video
Asian markets continued to tumble on Tuesday, amidst the fallout from the US credit downgrade. The gloomy atmosphere is spreading fear and uncertainty among investors.
Asian markets opened down, following Monday's dramatic falls.
Despite the major indexes pulling back from a dizzying tailspin earlier in the day, most Asian markets still ended Tuesday with a loss.
Fears of a possible global recession are rife among investors.
Francis Lun, managing director of Lyncean Holdings, said, "It's a complete meltdown, it's like the financial crisis, or financial tsunami, there is a complete loss of confidence."
South Korea's stock market is among the worst hit.
The benchmark Kopsi recovered to end nearly 3.6 percent down, after earlier plummeting by 10 percent during the morning.
The country's Financial Services Commission chairman, Kim Seok-dong, appealed for calm, saying foreign currency liquidity would be closely monitored, and appropriate actions would be taken at the right time.
In Japan, the Nikkei 225 stock average pulled back from a fall of more than 4 percent, to close 1.7 percent down. It's the Nikkei's worst performance since March 15th - when the twin earthquake and tsunami disasters caused stocks to slump.
Yoshihiko Noda, Japanese Finance Minister, said, "We will be cautious and keep a close watch on the financial market."
Chinese stocks also fell, dropping to a month low on Tuesday.
The benchmark Shanghai Composite Index fell point zero three percent, while Hong Kong stocks lost 5.66 percent.
But Australia's ASX 200 index bucked the trend, moving into positive territory, and closing up 1.2 percent.
Related stories
Editor:Liu Fang |Source: CNTV.CN