Watch Video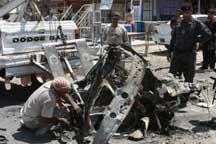 Play Video
Iraq has been hit by a series of bombings in dozens of cities. Altogether at least 60 people were killed and over 250 injured in Monday's attacks.
The worst violence occurred at a crowded market in Kut, a city southeast of Baghdad, where two explosions killed 35 people and injured 64 others. So far no one has claimed responsibility for the attacks.
In Kut, twin blasts went off as construction workers gathered in a market to sell power generators and other appliances.
The first bomb went off in a freezer. As rescuers and onlookers gathered at the site,a car bomb went off. Eyewitness say the explosions were some ten minutes apart.
Across the country, at least 60 security forces and civilians were killed.
The violence was far spread, reaching from the northern city of Kirkuk to the capital of Baghdad to the southern Shiite cities of Kut, Najaf and Karbala.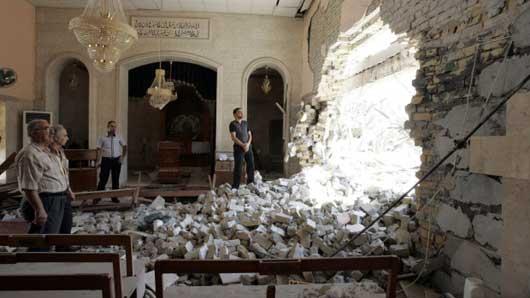 Residents inspect a damaged church after a bomb attack in central Kirkuk, 250 km (155 miles) north of Baghdad, August 15, 2011.
The bloodbath came less than two weeks after Iraqi officials said they would be open to a small number of US forces staying in the country past a December 31 withdrawal deadline.
The attacks happened during the Muslim holy month of Ramadan and capitalized on Iraq's weak security as US troops prepare to leave eight years after its invasion.
Iraqi authorities blamed al Qaeda affiliates for the blasts.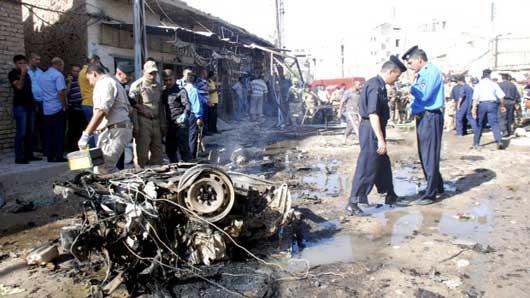 The remains of a vehicle used in a bomb attack is seen in Kut, 150 km southeast of Baghdad, August 15, 2011. Two bombs tore through a public square in the southern Iraqi city of Kut on Monday, killing at least 37 people in the worst in a string of bombings and suicide attacks across the country.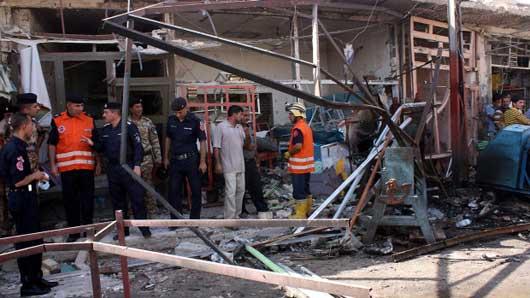 Iraqis inspect damages following twin bomb blasts in the southern city of Kut on August 15, 2011 as a spate of nationwide violence killed dozens across the country, just months ahead of a pullout of US forces.
Editor:Liu Fang |Source: CNTV.CN