Watch Video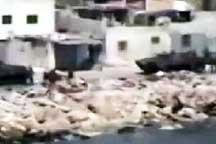 Play Video
A spokesman for the UN agency for Palestinian refugees says thousands of people have fled a Palestinian refugee camp in the Syrian city of Lata-kia. Some were fleeing gunfire and others left on orders from the Syrian authorities.
Chris Gunness, spokesman of UN Relief and Works Agency, said, "We are extremely concerned about the situation in Latakia, where more than half the refugee camp, between 5,000 and 10,000 people have fled. They fled incoming fire from gun boats, they fled incoming fire from the land and security personnel told them to leave. We are saying to the Syrian government we want immediate humanitarian access to tend to the sick, to tend to the dying and to get our programmes up and running."
Residents of Lata-kia, say the al-Raml refugee camp, has been among the targets, hit by Syrian forces.
In the West Bank town of Ramallah, scores of Palestinian residents, held a candle light vigil protesting against the Syrian regime's actions.
Officials, at the refugee affairs department of the Palestine Liberation Organization say the Palestinians should stay out of the conflict in Syria. The Palestinian authorities have called on Damascus to safeguard the lives of Palestinian refugees.
Editor:Liu Fang |Source: CNTV.CN