Watch Video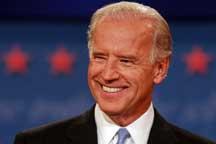 Play Video
US Vice President Joe Biden on Tuesday begins his visits to China, Mongolia and Japan as part of the Obama administration's efforts to "renew and intensify" the US's role in Asia.
32 years after he first came to China as a member of the first US delegation following the normalization of China-US relations, Biden returns, this time as the Vice President of the United States.
Biden is expected to discuss with Chinese leaders the "full breadth of issues" in the bilateral relationship. In his visit to Chengdu, a city in southwestern Sichuan Province, the vice president will give a speech on US-China relations at Sichuan University.
He will also travel to the city of Dujiangyan in the province, jointly with Chinese Vice President Xi Jinping, where they will visit a high school that was rebuilt following the 2008 devastating earthquake.
Some say that after a series of financial problems that troubled the US as well as the world, Biden's visit may bring some comforting commitments for China, the biggest US debt holder, especially after Standard and Poor's downgraded the US credit rating.
Jin Canrong, professor from School of Int'l Studies, Renmin Univ., said, "Biden's major task is to see whether China is really annoyed by the US credit rating downgrade, as China is America's biggest debtor. China's attitude is of great significance for them."
Meanwhile, US arm sales to Taiwan and affairs on the Korean Peninsula may also be discussed during his visit.
Biden has witnessed the ups and downs of the bilateral ties between the two countries over the past 32 years. When he first set foot in China in 1979, the two countries had just ended decades of hostility and signed a joint communique establishing diplomatic relations, setting the cornerstone for bilateral ties.
By the time Chinese President Hu Jintao visited the US in January this year, the relationship between both countries had grown into a cooperative partnership based on mutual respect and common interest.
Editor:Liu Fang |Source: CNTV.CN