Watch Video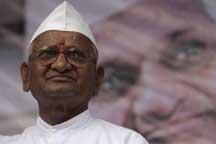 Play Video
In India, police have ordered the release of one of the country's well-known social activists Anna Hazare, who was arrested for planning a public hunger strike. However, the elderly anti-corruption advocate refused to leave prison until he is allowed to continue with his protest.
Hundreds of Hazare's supporters waving the Indian flag or holding candles aloft gathered outside the jailhouse as police ordered his release Tuesday.
But his aide said he refuses to leave unless police allow him to continue his hunger strike indefinitely in a New Delhi park.
Anna Hazare began his fast behind bars, with his supporters holding protests nationwide in India.
Earlier, he had planned to begin another public fast on Tuesday to press for a stronger bill.
But police barred his latest protest after organizers refused to limit the number of fasting days and participants.
Palaniappan Chidambaram, Indian Home Minister, said, "We are not prohibiting a peaceful, democratic protest. In fact, the exercise, nowhere in the world is a protest allowed without any conditions."
Indian police rounded up at least 1,200 protesters in New Delhi and more than 3,000 in Mumbai, but many were released.
Hazare's demand for tougher anti-corruption laws has tested the beleaguered government. It has also galvanized Indians fed up with seemingly endless scandals exposing bribery and favoritism and paralyzed efforts to address poverty and speed up development.
Editor:Liu Fang |Source: CNTV.CN