Watch Video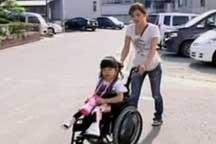 Play Video
Local residents in Fukushima prefecture have faced an uncertain future since the March earthquake and nuclear crisis.
Aya and her two daughters currently live in a temporary apartment in Fukushima prefecture. Like many others, they were forced to evacuate to a nearby school gymnasium where they slept on the floor.
But as Aya's youngest daughter Noa suffers from mental and physical disabilities, including a split spine that prevents her from walking properly, the evacuation center soon proved unmanageable.
With no other options, Aya decided to leave the evacuation center and move back in with her ex-husband, who lives in a prefecture near Tokyo.
Aya said, "We have spent a week in an evacuation center, but it has turned out to be impossible for Noa. So when her father contacted us, we decided to go. We were told that there are hospitals around."
The government has said it may take years for people who used to live around the nuclear plant to return home. Aya says the possibility of never returning home is unimaginable for her.
Aya said, "I don't know what will happen with the nuclear reactor and I have been wondering when I can go back to my hometown. I just can't imagine building my life elsewhere."
Fukushima has seen a massive outflow of citizens since the nuclear disaster. The population has now dropped to below two million.
Editor:Liu Fang |Source: CNTV.CN