Watch Video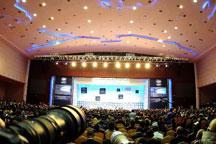 Play Video
With concerns over the global economy still mounting, business and government leaders are gathering in China to work towards solutions. The 2011 Summer Davos opens today in the northeastern port city of Dalian. The foremost global business forum in Asia will have plenty on the agenda. Premier Wen Jiabao will give a key note speech at the opening.
The opening ceremony of the Summer Davos begins at 9 AM Beijing time, or 1 AM GMT.
More than 1,600 participants from 90 countries and regions are expected to attend this year's summit. Former and current state leaders will be in attendance, and some of the heavy hitters from the business community includes CEO of Alcoa, Chairman of Mitsubishi and chief of China Merchants Bank.
A business representative said, "We are here because Davos is a very important forum. We can meet many companies, non-government officials, and customers. Also some people from the media industry."
The theme of this year's meeting is "Mastering Quality Growth."
It will feature an intensive and interactive three-day programme that provides a systemic overview of key economic, industry and technological developments that are reshaping consumer behavior, business models and financial markets.
Jeremy Jurgens, Sr. Director of World Economic Forum, said, "When we first held summer Davos in China five years ago, we didn't know if China will play a big role. But the past five years have proven that China is very important in the world economy."
A variety of events have been planned including ministerial level meetings, young scientists gatherings, banquets, art exhibitions, and local industry tours.
Volunteers are getting ready for the big day. Many of them are fluent in English, French, German and Russian.
Related stories
Editor:Zhang Jingya |Source: CNTV.CN