Related reading:
More than a million people in central Japan have been urged to evacuate as the country braces for the arrival on Wednesday of a powerful typhoon.
Reports said evacuation warnings have been issued to 1.3 million people, including 800,000 in the city of Nagoya, 170 miles (270km) west of Tokyo.
Typhoon Roke is thought to have killed five people even before it makes landfall. Police in Gifu prefecture said a nine-year-old boy and an 84-year-old woman were missing after reportedly falling into a swollen river. The body of a middle-aged man was discovered in a river in Nagoya early Wednesday morning.
Rolling TV weather forecasts warned that Roke would make landfall on Wednesday, bringing torrential rain and violent winds.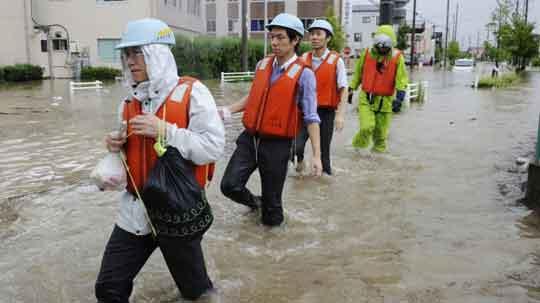 Residents walk in a flooded street to evacuate in Nagoya, central Japan, in this photo taken by Kyodo September 20, 2011.
Editor:James |Source: CNTV